About
General Info | Product Comparison | Project History
In order for you to make a more informed decision about whether or not KolourPaint is the right product for you, we compared KolourPaint 1.2.2 against a number of other graphics applications.
To quote Chief Investigator, Thurston Dang:
Like all other product comparisons, this page has been designed to show you that our product is the best.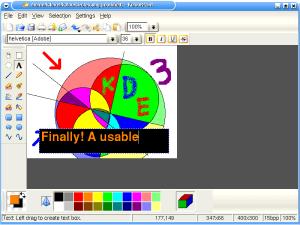 KolourPaint
The GIMP has long been respected as the most powerful free image editor not just for GNOME but all of UNIX.

However, it has a notoriously hard-to-use interface. Not designed primarily as a paint program, many users struggle with using GIMP for basic tasks like drawing lines.

KolourPaint, on the other hand, provides a user-friendly interface optimised for simple, everyday tasks.

It lacks GIMP's sophisticated photo-editing capabilities.

GNOME Paint

Not to be confused with GPaint or gnome-paint, GNOME Paint is a clone of Microsoft Paint with some additional image effects. However many features appear unfinished and it is easy to crash.

In comparison, KolourPaint is stable and widely used.

Based on XPaint, the GPaint authors write that GPaint is:

... a small-scale painting program for GNOME ... Gpaint does not attempt to compete with GIMP. Think of GIMP is like Photoshop as gpaint is like Windows Paint. [sic]

However, without undo/redo support, it is difficult to use and makes it hard for GPaint to compete with Microsoft Paint, let alone KolourPaint.

KPaint 0.6.2

KPaint is an older paint program for KDE3, compared to KolourPaint. Unfortunately, like GPaint, KPaint lacks undo/redo support and has a number of glaring bugs.

KIconEdit 3.2.2

Like KPaint, KIconEdit is also an older paint program for KDE3. It has incomplete undo/redo support and suffers from major performance issues with images the size of a screenshot.

On the other hand, it does have some features that KolourPaint does not - such as paletted image editing and alpha channel support.

Krita intends to be a powerful paint program for KDE. It is currently at a very early stage of development. However, the KolourPaint Project is committed to helping develop Krita into an even more powerful paint application than KolourPaint.

KolourPaint will continue to retain its renowed usability and conceptual simplicity by concentrating on common graphics use cases.

Microsoft Paint

Microsoft Paint is the paint program that comes with Windows. It offers a surprising amount of functionality through a consistent and easy-to-use interface. Like KolourPaint, it is designed for simple, everyday tasks.

Compared to Paint, KolourPaint has extra features including:

500 levels of undo/redo support (Paint has 3)
transparent image editing
undo-/redo-able selection commands
an extra half a dozen effects
arbitrary rotation angles
"colour similarity"

On the other hand, Microsoft Paint has some features that KolourPaint does not, including screen depth independence, paletted image editing, selectable text and image acquisition from a camera.
If a new stable version of one of the above applications has been released addressing the problems we describe, please let us know and we will update the entry.
General Info | Product Comparison | Project History